PRACTICUM STUDENTS- 2020 - 2021
JENNIFER ESME TETTEH
PRACTICUM STUDENTS-2021
My name is Jennifer Esme Tetteh, and I am from Ghana. I arrived in Winnipeg, Canada in September 2019 to pursue a Master's programme in Peace and Conflict Studies.
MONISHA SHAH
PRACTICUM STUDENTS-2021
Monisha Shah has 5+ years of experience in community development and has worked with an NGO, Robin Hood Army, where she taught life skills and provided basic education to the economically underprivileged children in India.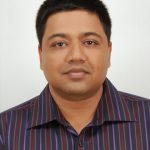 Z M SARWAT HOSSAIN
PRACTICUM STUDENTS-2020
Z M Sarwat Hossain is a graduate student in Peace and Conflict Studies Joint Master's Program (JMP–PACS) associated with both University of Winnipeg and University of Manitoba.
CHUKWUDI JIEME
PRACTICUM STUDENTS-2021
Chukwudi Jieme, is a final year master's Student of Peace and Conflict Studies in the University of Manitoba.
KWADWO KYEI-POAKWAH
PRACTICUM STUDENTS-2020
WADWO KYEI-POAKWAH is an experienced professional with high academic training and practical experience in public governance,